Monday, January 16, 2012 at 07:25AM
Oh I just loved the first couple minutes of this video, makes me want to go dance around on the windy coast. Well, and fly, of course. The last part was a little sad, so feel free to just watch the first 2.5 minutes and just allow yourself to imagine being weightless and free.
GRAVITY // UN RÊVE DE DEMAIN from Filip Piskorzynski on Vimeo.
4 Adventures that don't require travel:
Get some kind of exotic tea you've never tried before and brew yourself a pot. (I love Lapsang Souchong; it's like a campfire in a tea cup.... so, maybe you should order some specialty marshmallows from Whimsy and Spice to go with)
image from whimsy & spice
Stream a radio station from another city or country. (I listen to KGSR (Austin, TX) and Triple J (Australia) FM4 (Austria)...... weird, i seem to pick places beginning with "a".....) Or try a genre you aren't familiar with; NPR has a massive list of streaming radio options here. (I'm trying classical music at the moment!)
image from wikipedia
A familiar suggestion I'm sure, but BOOKS, of course. I am often busy making things with my hands, so I like to listen to audio books. Maybe you don't work with your hands, but you have a long drive or commute to work? Audiobooks are great for any kind of monotony; put it on an ipod and listen while doing dishes. Currently I'm listening to this fantastical story about two young duelling magicians and a mysterious circus. The Night Circus, by Erin Morgenstern (available from Audible or if you prefer to read, Amazon)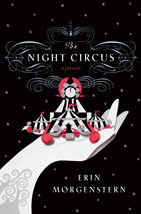 image from erinmorgenstern.com
How about an aromatic adventure? One of the things I remember most vividly from a trip to Egypt as a child was the woman selling perfume oils in all these tiny vials.... Even if you never order anything from Villainess their descriptions alone are worth reading. I just ordered the Jai Mahal perfume oil, but my friend swears by their soaps too. Just imagine the transporting quality of sudsing up with Dulces en Fuego, Krakatoa, or Pearl Diver.
image from villainess.net
I hope these ideas help you get thinking about ways to bring a little adventure into your life, even if responsibilities, or finances, or vacation time mean you can't run off to Thailand just yet. Do you have some ideas? I would love to hear them.